Neighborhoods
All of our properties are in superb locations, in established, walkable, in-town neighborhoods, directly adjacent to Uptown, with wide sidewalks, towering willow oaks and convenient access to parks, dining, shopping and entertainment. Each property is 8 miles or less from the airport, an easy 15 minute drive. Excellent access to public transportation and the proximity of neighborhood services make car-less living a real possibility.
---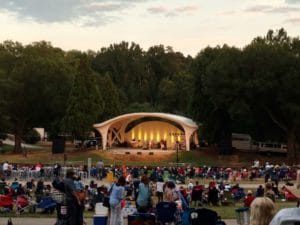 Dilworth—a designated Historic District
Our Magnolia Green building, has 7 furnished apartments, and is located on Magnolia Avenue, a quiet tree-lined residential street in Historic Dilworth. The neighborhood has a mix of stately homes and craftsman bungalows, many built in the early 1900s, along with several vibrant commercial areas that provide an abundance of local restaurants and shops, making Dilworth the most pedestrian-friendly, walkable neighborhood in the city.
Located just 1.5 miles from the central business district (Uptown), you'll be able to walk to 3 parks, two full-service grocery stores, 40+ restaurants (Thai, vegan/raw, Indian, Italian, Peruvian, new American etc.) massage studios, coffee shops, art galleries, consignment stores, neighborhood pubs and other amenities, along wide sidewalks under huge willow oak trees.
Within just a couple of blocks are many dining options, including a sushi restaurant, one of the best Italian restaurants in Charlotte, a wine shop, yoga studio, several neighborhood pubs (one with live music most nights), a popular breakfast spot, a full-service grocery store, and a park with a tennis court.
A transit stop 1/2 block away provides bus service directly to Uptown, the Convention Center/Time Warner Arena/Panthers Stadium and in the other direction to SouthPark (upscale shopping) every 15-20 minutes.
The Lynx Blue Line light rail is only a 15-minute walk away, with trains going directly Uptown in 10 minutes. Carolinas Medical Center (Levine Children's Hospital) is 4 minutes away by car, or an easy 15-20 minute walk.
Annual events in the neighborhood include the Greek Festival, Festival in the Park, the Dilworth Criterium bicycle race.
With so much at your doorstep, and great access to public transportation, a car is not needed, and many of our guests simply take a taxi from the airport and explore the neighborhood on foot.
---
History of Dilworth, from the Charlotte-Mecklenburg Historic Landmarks Commission
When Edward Latta initially began developing Dilworth in 1891, he introduced an electric streetcar built by the Edison Electric Company. It brought city dwellers beyond the outskirts of the city for recreation. The success of Latta's project was dependent on wealthy and middle-class potential homebuyers realizing they could enjoy a country lifestyle and easily commute to the city center for work. He purposefully established a racetrack, baseball field and municipal fairgrounds at the end of the trolley line so passengers had to ride by the homes for sale. By 1912, Latta began to develop these areas in consultation with the Olmstead Brothers landscape architect firm. Olmsted Brothers was already famous for its work with the White House, Duke University, The Biltmore Estate and Audubon Park in New Orleans. They recommended a grand winding and circular road rather than the grid design used thus far–and thus was born Dilworth Roads East and West, just a block from Magnolia Green.here.
---
Majestic Myers Park—a National Historic District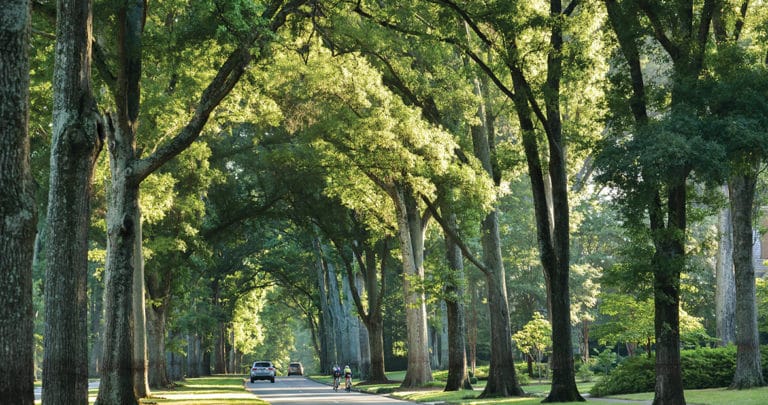 Our Queens Terrace, 510 Queens and Hermitage Court buildings are located in the heart of the distinguished Myers Park neighborhood, arguably the finest and grandest neighborhood in the city.
Queens Terrace, which houses 7 of our furnished apartments, is situated on sought-after Queens Road and our Hermitage Court building is located on prestigious Hermitage Court, across the street from the Neo-classical Frank Simmons home, one of the oldest homes in the neighborhood, built in 1913.
Curving, tree-lined avenues, gracious homes, stately mansions and small parks combine to make Myers Park one of the most livable neighborhoods in the South, where generations of prominent Charlotteans have made their home. Street cars originally ran down the median of Queens Road, and now beautiful flowering cherry trees grace the street.
Hermitage Court is a quiet lane with a beautifully landscaped median. There are four corporate apartments in the building. Stone gateways flank each end of the street, and provide a grand entrance to the neighborhood, developed between 1913 and 1925. Almost a century later, the overwhelming majority of the houses retain their original architectural character.
Located one mile from Uptown, home to multiple museums, the convention center, Bobcats Arena, Panthers Stadium and the Epicentre entertainment complex, Myers Park was created by famous landscape architect John Nolen in 1911. Nolen's vision for Myers Park was to use the natural curves, gentle hills, and creeks in the area to create a secluded glen cut off from the city. Read more about the neighborhood's early beginnings here.
Wide sidewalks and towering willow oak trees throughout the neighborhood provide an ideal place for walking or jogging, and a coffee shop, many restaurants (including Ethiopian, Thai, casual and fine Italian, etc.) a deli-market, antique shops and even an independent movie theater are a half mile away. Spring through fall, a farmers market is open Wed, Fri and Sat around the corner, and a new greenway offers a convenient connection to Freedom Park, Dilworth and Carolinas Medical Center. Theatre Charlotte, our community theatre since 1927, is across the street from Queens Terrace, and offers several productions throughout the season.
Edgehill Park provides a quiet secluded place for a walk and makes for a great "loop" walk along Edgehill Rd. N. and Edgehill Rd. S.
---
Eclectic Elizabeth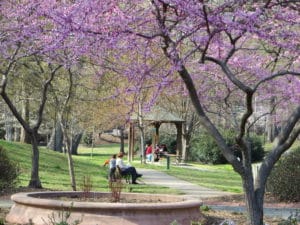 Our Hawthorne building, home to 4 1br furnished apartments, is located in the Elizabeth neighborhood, the city's second-oldest "streetcar suburb", dating from 1891. With its central location adjacent to Uptown, the area is convenient to all of Charlotte, no matter what direction.
Many of the older bungalows have been tastefully enlarged to accommodate modern families, and there are still a multitude of the original landmark homes in the neighborhood with character completely intact. The neighborhood has a youthful, energetic and vibrant feeling.
In addition to the incredibly beautiful residential streets, there are thriving commercial areas with some of the city's finest restaurants, as well as neighborhood favorites. Of particular interest to movie fanatics, Visart video is an independent video store with an enormous catalog of almost every movie you can imagine. Jazz is on tap several nights a week at the long-standing Cajun Queen restaurant. The Plaza-Midwood commercial district is just a half mile away, with many restaurants, bars, shops and galleries to fill up a full day and night.
The neighborhood hosts an annual Easter egg hunt, progressive dinner and a Home and Garden tour.
Independence Park, just 2 blocks from our Hawthorne building, is the oldest public park in the city, and one of its most gracious, with a reflecting pool and rose garden, tree-lined paths, tennis courts and playing fields.
You'll enjoy a true taste of city life in this active neighborhood where there's always something interesting going on, from vegan beer dinners at Fern to the neighborhood's annual 8k road race.